Renaissance of the Sacred – Stars, Stones, and Stories: Wales and Avebury at Crop Circle Season 2020
with Daniel Giamario and Anyaa McAndrew
July 25th-Aug 7th, 2020
Join Anyaa & Daniel in 2020 for a 14-day adventure in both Wales and Avebury, UK
Visit our facebook page

EARLY BIRD ALL-INCLUSIVE TUITIONS END March 1st, 2020
Our Vision Statement:
We are dedicated to the awareness and preservation of global humanity's connection to its Feminine, Earth Mother, Mother Goddess and matrilineal roots. We create together at sacred sites to reanimate these connections and to help re-dream a new world, founded on gylany, the collaboration of Masculine and Feminine as equals, and without hierarchy. We utilize a group context of Shamanic Astrology and Sacred Earth/Sky ceremony. We specialize in experiencing ancient megalithic sites and sacred landscape around the world, connecting with local experts in each area. We have a particular love of the time-frame of the Neolithic golden age, 2000-4500 BC. We feel it to be possible, and even necessary, to reconnect to our ancient DNA and karmic memories of the far longer time in human history, encompassing 200,000 years, when global humanity lived in much greater harmony and peaceful cooperation. Perhaps we can find out who we are and discover what actually happened!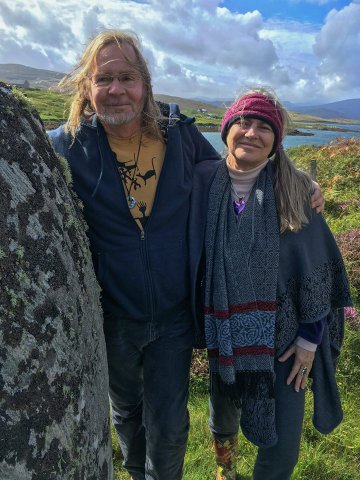 In 2020, we will have the opportunity to:
Work with guest teacher Robin Heath for 4 days in the wilds of Wales, and learn of his new research linking megalithic sites to crop circles and his latest work linking the sacred geometry of Pembrokeshire and the Preseli bluestones with Stonehenge.
Stay at the Gwbert Hotel, the sister hotel right next door to the Cliff Hotel and Spa, where spa services and amenities will be available to you (at an extra charge).
Stay in the Bear Hotel for 7 nights in the historical market town of Devizes, where the annual Crop Circle Conference will be held.  
Participate (with your tuition covered) in the annual Crop Circle Conference for one day, on Sunday, August 2nd.
Spend another full day with Robin Heath who will be speaking at the Crop Circle Conference.
Spend 2 days with guest teacher, local guide, writer, and researcher Peter Knight getting to know the large stone circle of Avebury and surrounding sites.
Do ceremony with Peter at the West Kennett Long Barrow.
We are keeping our tuitions at our 2019 rates! Scroll down for the earliest and best rates, and to read a whimsical review of our 2017 trip to Wales and Avebury by one of our favorite participants!